CVN -CYBERTOWN VIRTUAL NEWS

No Happy Birthdays posted for today...and N0 posted Happy Virtdays today! Please post your special day to the Activities Board! We do wish a "Happy Birthday or a Happy VirtDay" to any Cytonian celebrating a birthday or VirtDay today who forgot to tell us!

We ALWAYS need more birthdays and Virtdays posted! We always give thanks to all of our citizens for posting those items and special days listed on the Activities board throughout the year! Keep them coming! Are there any more December or January birthdays out there??? Be sure to post your December, January and February birthdays now! And where are YOUR Virtdays? did MeganCho get them listed? OH Well! We DO wish a "Happy VirtDay" or Happy Birthday to any Cytonians celebrating today who forgot to tell us! Psst please do keep checking out the other activities that sometimes get listed on the Activity board. CVN Thanks you!

[To have your birthday acknowledged in the News please post the date in the Cybertown Calendar listed as "Activities"(access from the control panel ~ right hand frame) It's located just above "getting started". Posting Tips are there to help you. The Activities Calendar gets checked every weekday! [ Currently issues are prepared one day in advance of publication, so post birthdays early.] Please note it says "activities" not birthdays. So if you have an event, post it on the Events board. Then if you want more publicity for events...that's why we have an email address placed in this section.

Please note that at all events and activities are posted in CyT (Cybertown Time).

Cybertown wishes to thank citizens for independently creating colony-related websites. As the sites are outside of Cybertown, Cybertown is not responsible for the content on those websites.

[CVN Daily News is provided for the people, and in many cases BY the people! So our mailbox is wide open, ready for and interested in reading all your submissions, whether a classified ad, activity announcement, or suggestion for content!]
CVNDaily AT cybertown.com
Heard and Seen Around Town

These need to be dusted off and updated. Consider this a call to citizens for urls, information etc.,! Old news will be moved even further way from these pages with a link over the next two decades? lol Haven't done a single one. Please note that a harmless javascript is used to pull up these pages.



IVN INFORMATION FOR OUR READERS
IVN's email address is: billing AT integratedvirtualnetworks.com
The Phone number: 1-888-557-5611Snail Mail:
Integrated Virtual Networks
2049 Century Park East
Suite 2740
Los Angeles, CA 90067

Headline News
SEVENTH DAY OFFLINE





CVN OBSERVATIONS


As usual we hit email to see if there was any news there. Everything is quiet on that front. We took a trip over to the Cybertown interface and found a nice couple of details. There was no server error image and there is a nice notice to those who go there that "the server is down." We took a screenshot and add it here for your viewing pleasure. We plan on publishing tomorrow and Sunday if necessary.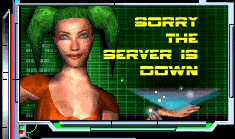 Thursday's Daily is still up, which was our last issue uploaded to the Cybertown server. There really is not much new to tell, although we do have a short report from Vialle as of 2:52pm, Friday, December 29th.
"Right now about all I can report is that wovencroft and our server manager have additional assistance which will be a great help. I will very likely have something more to report soon. Might be tonight... might be tomorrow night. Not clear on that... but I'd say we're close to estimating when things should be up and working again."


New Features for Our Readers

We Have TWO brand new features for you: 1. Hobbs, New Mexico Holiday Houses and 2. "You Think You had a Bad Day?" When you read the second one think about wovencroft and the others working on the server to bring Cybertown online! CVN wishes then great success without the *booms*!



CVN STILL Offers "The 12 Contests For Christmas"


No entrants to our contest means no winners for our December contest. We have the same three contests first announced here: We ask our readers to contact people they know who might be interested! At the end there will be final over all winners and many prizes including over 10 million CCs, if we have any entrants. Hey, the city is down So WRITE! Or draw *grin*

We have a pot sweetner for writers. I received my renewal notice from Writer's Digest and can give away a ONE year subscription(in the US, I would guess, six issues worth $19.95!) It will go to the winner of any of the writing contests.

1. Seasonal short stories:

Write (you just knew we would have writing contests!) an original short story fitting any seasonal event in December. The only limitations are 50 words or more. The upper limit is 2500 words. Emailme!

2. Seasonal Poems:

Write (you just knew we would have another poetry contest too!) an original poem fitting any seasonal event in December. It can rhyme or not rhyme! The only limitations are 5 lines or more. The upper limit is 25 lines. EEmailme!.

3. Seasonal graphic art:

Create an original seasonal image or edit screenshots, collages, etc. to no more than 40kn and enter. Email me. For the graphic artist we offer a pdf book deal made just for you. We can discuss real publishing, if interested. Emailme!

Send Entries to: jdb_educator@msn.com (copy paste it!) or see if this works:jdb_educator



Pointer Woes
jdb_educator, from email.



There really has been no news I can print today. I have asked a few reliable sources without a positive response. I do know now that the server workforce is small and no doubt working very hard to return Cybertown to its citizens. Hopefully, we will have more news tomorrow or celebrate Cybertown's return!

The last news to trickle down was "file pointers". This is or may be the apparent cause of our long down time according to what I am reading. File pointers can get extremely tricky. For html they are just locations of folders and files and relatively easy. Some times just finding the folder or the file can take hours. Not so with higher level coding. from my quick tutorial reading at brown University (on Java to C++): "Since pointers are just numbers in memory - on our x86 machines, they're 32-bit integers - it's possible to have pointers to these pointers." I know from my own web work that simple folder/file locations can drive me crazy. I cannot imagine trying that with more difficult coding. But, from the tutorial I found, let me show you one example: " In Java, you would code:
myFooInstance.bar();
In C++ you can't do this, since myFooInstance is a pointer, and pointers need to be dereferenced before being used. To call a method through a pointer in C++, you would code:
myFooInstance->bar(); // dereference the pointer and call the method"

Additionally, over the years, a lot of people have worked on the different versions of the Cybertown server. The number of pages and code references has grown by leaps and bounds. I seem to recall Hawk telling us at one point that he was personally updating 5000 pages. And that was nearly nine years ago. CVN sincerely hopes that Wovencroft has LOTS of help. Nothing in or about Cybertown is usually easy, but all of it is the make-up of an amazing experience of a lifetime.

Article source: http://www.cs.brown.edu/courses/cs123/javatoc.shtml#PointersPointers



Cybertown Gets New Server
jdb_educator, compiled from emails.



Details are trickling into News Central at CVN. Here is what we pretty much know: SpritPrincess passed information through the Artists Guild that "the maintenance turned out to be a complete move from one server to another and the log-in page isn't working on the new server...our own Com Techs are suppose to be working, that's from Hawk on the problem..."

Cybertown is still down but Wovencroft, Cybertown Community Technician, is on the job trying to fix it. Others may be involved, we don't know who other than Com Techs.

IVN's timing on this ends up badly, but only because a smooth transfer didn't happen. If it had, Cytonians would be satisfied. We can only speculate that IVN neeed to prepare for the coming new year. The best guess of two days continues into its SIXTH day. We can only hope that Cybertown will return soon.



Morning.star Provides Temp Chat World for Cytonians



He informed the chiefs and CVN " I've set up a temporary chat world in the Outers for everyone to use to tide us over til CT is back up again. Please feel free to distribute this url - the signs in the Winter Village all link to my free ecard site if you would like to use an ecard featuring CT artists to distribute the chat url with to other destitute citizens while you're there :)"

A Morning.star World The Url will open a new page and should trigger your blaxxun Contact softwear. It work for us. Good Luck!



Flyby Truly a Star Now
Vialle for CVN


Merry Christmas! I haven't been online since Friday and I'm sorry to see that the city isn't up yet but that's not why I'm emailing.

My daughter gave crashdummy and I a special gift this Christmas that I think all Cytonians will be happy to hear. In loving memory of Steve Kash, star number " Ursa Major RA 8h 22m 37s D 67' 55' " has been redesignated to the name "FlyBy".

When the city is back up I'm hoping to find a way to add this information to Flyby's Park :o)
~Vialle



Greeting Card from Spirit Princess jdb_educator for CVN


Spirit Princess sends out this Christmas greeting. Be warned, there is at least ONE popup. http://www151.123greetings.com/card/12/25/14/10/GP11225141014571.html It will open up in a new window. I was the 1,000, 000 visitor so said the popup, but clicking only lead to the usual ternms and conditions So sad. They lie and will say anything to earn your click. Nonetheless the card by Spirit Princess is loverly.So... close the popups and enjoy the card! -editor



Hawk's Christmas Card to Cybertown





Merry Christmas From CVN Editor And Staff!

Here is our e-card:
http://ww3.ez-greets.com/index.html The link is much longer. (We hope you do not get any pop-ups. We didn't when we tested the link. A Merry Christmas wish or OR THREE... go to you all!

It's here. Enjoy. Celebrate YOUR God (everyday) Family, Friends and the possibility that can become your life's Reality. A new year is soon to arrive! What will YOU do to make it a better one? Give it a think or two and tell CVN! Write us at: CVNDaily AT cybertown.com

Cybertown Still Down
CVN is Back!
Cybertown Culprit: Maintenance Required!


In her role as Mayor's Secretary, LadySilverSplash spread the news to council and on the feedback and other boards. As of Midnight Thursday (CyT) the CT server would be down for maintenance. Of course, while you are reading this, at least part of the city will be up. According to CVN sources(Vialle) "It could possibly be down as long as 2 days but hopefully will be back up by tomorrow"(Friday) morning. The word will spread pretty quickly once the city returns!

In fact as of this publication 1:13 Monday December 25, Cybertown remains in the fixit shop getting a lube, reprogramming and whatever else has been planned.

As events are rescheduled we will make every effort to alert our citizens!



CVN Announces Promotion!


deb 44 has completed her second issue of the weekly News. Having to deal with the Editor is hair raisiing enough to turn a poor girl's hair white! Well....it is seasonal We are proud to announce both the release and her promotions to CVN Weekly Editor and CVN deputy News. You may see the current issue at http://cvnweekly.50megs.com

The Christmas Gift


Date: Tue, Dec 19 th, 2094 (2006 for Earthsiders) 5:10:15 pm.
From: preacher2000, CVN
Subject: Give the Gift of Cybertown!
Cybertown is a gift that keeps on giving, so be sure to give your friends and family a subscription (month or year) to Cybertown. Don't have a friend or family member that may be interested in Cybertown? Give this gift to another person in Cybertown who may be looking for a subscription.

I am already planning to give 3-Month Subscriptions to my cousins. Toys break, money is spent, clothes become to small, but the experiences and memories in CT last forever.

"It Takes Teamwork to Make the Dream Work"
preacher2000, Cybertown Virtual News



December Holiday House Well Begun!
2 Million in Prizes


CVN continues its annual celebration of Houses, decorating and imagination.
pamiepage is our first entrant so the prize pool is GROWING at 2, 000, 000 CCs. with the additions of StudioConcierge, TheSesameKid, Goober_Girl, haleeween, fairymist, TheSesameKid and now LadySilverSplash(2D). (we received emails Voting for fairymist and asked the senders if they wanted to judge! Readers, Do you want to judge? Let us know.)Because of the Maintainence we will extend entries through December 26th.)=Oh Oh Oh.. Can I judge? Not all have finished preparations, but we don't care about THAT until the judging begins!

Anyone can nominate houses, just inbox, email or let us know---somehow!

December: December 28 is scheduled to start the judging. December 26th(NEW DATE) will work for the last minute submissions date. We are planning another Holiday House Tour for December 30th at 5-7 PM-subject to approval-as a tentative date. We will hold it aanyway. If you run late the URL will be posted in the News Center AND The Daily News on December 27th. The News Center can be reached through the link on the Activities booard located above the JumpGate. The tour will be available for our follow the links on a webpage too. Gather your friends and schedule your own tour for just after Christmas (27th). You could be a tour guide :)



February: We skip January, figuring that a rest and the extra time will be needed for February. Although decorators might surprise us and not even go with the possible Valentines Day theme. We have: February 9 scheduled to start the judging. Hopefully February 8th will work for the final submissions date. We are planning another Holiday House Tour for February, and have set the 11th as a tentative date. Email us if that is too early!

Here is the updated link for readers, nominators and contestants:
http://cvnweekly.50megs.com/%7Ecybertown/cvn/HolidayHouse94.html
We will review inboxes, forms and emails nominating houses. Anyway you can get it to us works! Always check aknlowledgement that we HAVE received your entry.



Ah Those VirtDays: December 26-!


Here are this Week's VirtDays provided to us by Megan_Cho. As We finish the entire list she provided us. We say Thank YOU, Megan!

and A Happy VirtDay to:
GemmaH December 26, 1998
Brother_Ramses: 20189 - Templar December 26, 2000

Ivoire December 27, 1999

mushh December 27, 1999
oldgrandpa December 27, 1999
Vitalone December 27, 1999
geogal2k December 28, 2000
October_Gypsy December 28, 2000
Skylark7K December 28, 2000
lloydcanfil December 29, 2000
WyldWoman: 21944 - Club Owner December 29, 2001
AnjaM December 30, 1999
Cin_intj December 30, 1999
Wovencroft December 30, 1999
One-n-only December 30, 2000
LightDancer December 30, 2001
Fluffnco December 31, 1999
LadiDdraig December 31, 1999
Talonn December 31, 1999
cai2k: 20642 - City Guide December 31, 2000



New C.E.R.B. Leader Named





Ladies & gentlemen, boys & girls of all ages....

CT is pleased to announce our new C.E.R.B. Chief.....







C.E.R.B. CONTINUES SEEKING NEW REPS!


The C.E.R.B. (Cybertown Equity Review Board) Is trying to fill C.E.R.B. Rep Openings. C.E.R.B. has openings for people with fair minds and knowledge of the UBP and Constitution. We are looking for at least one good candidate from each Colony, so that City Wide Elections may be held. Believe you're made of the right stuff? See Qualifications and if you still feel you would make a good CERB, apply through..C.E.R.B. Application



IVN/CT POLICY



Did you know? Any Cybertown citizen can purchase space in the top frame for things like events & special announcements (b'days, anniversaries, etc.) The current rate is $20 per week, $60 per month.

These are special rates for, NON-commercial ads and as always, all banners must be Founder approved before they can be uploaded. Advertisements for businesses are handled differently at different rates.

IVN/Cybertown thanks Holodoc, ND of Star Trek Hood in Sci-fi, who not only helped in the planning stage is also the creator of the first banner to take advantage of this new option!

This will not affect the cotm (Colony of the Month) banners or any that are already up there.

Interested parties should contact me at billing@integratedvirtualnetworks.com



Free Month of Cybertown
Jason_RC



Starting immediately, for every person who becomes a paying member of CT due to your activities, either as a referrer or sponsor, you will receive a free month of CT time. This is in addition to the citycash that you get for referring (12,000-100,000 CCs) or sponsoring (600,000 CCs) new paying members. If someone you refer signs up for a year, you will receive an additional free month of CT access.

Further information can be found here >>>



enter> Have You Renewed? Have You Joined Yet?
SUBSCRIPTION TIME


Be a Member of the greatest family on the Net! We used Credit card This year! Claire (vialle) is such fun to talk to! Through the good graces of Jason_RC we have the following CVN weekly article on subscribing for our readers. Vialle tells us "You can also make a credit card payment over the phone. Call 1-888-557-5611 and give your credit info and we will update your account over the phone." PayPal, telephone, and snail mail are the pathways to subscribing to Cybertown! Do you want to give a gift of Cybertown to someone? Just create a normal sponsorship account! It is easy to set up and pay for. Or you can make a donation account with a note for who it receive your donation. And, if you want to use a credit card, it's even easier! Got questions, call Claire!



Have you SEEN PartyLine?


Likely you have seen or visited Jason_RC's site for any number of useful items of information. His PartyLine site is just one of the wonderful things he has done for the city. Just in case you've been too busy, lost the link or never had it, we present it here for your fun. Take a look and keep it handy for your Cybertown event development. Here ya go: http://www.events.jasonrc.com/CTPartyline/



CVN
CYBERTOWN VIRTUAL NEWS

Cybertown citizens may submit articles to CVN at any time for consideration and possible use.
To submit news items
or requests for special event coverage
please email to:
CVN: The Daily News
For screen shot coverage
please send an email to
the CVN

CVN STAFF
Managing Editor:
jdb_educator

Deputy Editors:

Open-now hiring-

Publishers Team:
jdb_educator and a few friends

Daily Staff:
Jason_RC -papo1976 - sony_man10 - Megan_Cho - Preacher200 - deb44 - cragie- kayn
now hiring!

CVN Board Of Directors
jdb_educator, CEO
JeetKuneDo
Vialle
IsTLionK
zoozee


Back 2 Top